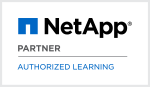 Data ONTAP SAN Implementation (SANIMP)
Аудиторія
Курс рекомендован инженерам по работе с СХД, партнерам производителя, системным инженерам и клиентам производителя.
Попередні вимоги
Сертификация NetApp Data Management Administrator
Прохождение курсов:
ONTAP SAN Fundamentals WBT (OSFWBT)
Data ONTAP 7-Mode Administration (D7ADM) или ONTAP 9 Cluster Administration (ONTAP9ADM)
Цілі курсу
3-дневный курс, направленный на получение навыков внедрения и администрирования систем хранения данных по архитектуре SAN на базе ПО и СХД ONTAP. В курсе рассматриваются различные варианты протокольного доступа и обеспечения подключений клиентских рабочих станций к СХД, а также аспекты поиска и устранения неполадок подключения.
Наступні курси
Classroom training
Duration 3 days
Price
(excl. tax)
Ukraine:

US$ 2 700,- *
* Расчеты в гривнах по курсу НБУ
Клікни по назві міста, щоб зареєструватись
Дати та реєстрація
RCIS
Ukraine
Currently no local training dates available. For enquiries please write to info@flane.com.ua.
Instructor-led Online Training: This is an Instructor-Led Online course
This is a FLEX course, which is delivered both virtually and in the classroom.