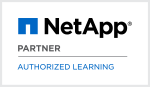 ONTAP Performance Analysis (PERFCDOT)
Аудиторія
Курс рекомендован инженерам по обслуживанию систем хранения данных, партнерам производителя, системным инженерам и клиентам производителя.
Попередні вимоги
курс ONTAP Cluster Fundamentals
Опыт работы с ONTAP (оп полугода до года)
Цілі курсу
Понять, как работает система хранения, работающая с функциями ONTAP 9
Определить команды и инструменты для сбора и мониторинга производительности системы хранения данных
Интерпретировать данные о производительности и выявить помехи для производительности системы хранения
Использовать системные команды и функции для повышения производительности и эффективности системы хранения данных
Зміст курсу
3-дневный курс, направленный на получение навыков анализа производительности и проблем производительности систем хранения данных ONTAP. В курсе рассматриваются инструменты мониторинга производительности и методики по устранению неполадок в различных компонентах СХД.
Classroom training
Duration 3 days
Price
(excl. tax)
Ukraine:

US$ 2 700,- *
* Расчеты в гривнах по курсу НБУ
Клікни по назві міста, щоб зареєструватись
Дати та реєстрація
Instructor-led Online Training: This is an Instructor-Led Online course
This is a FLEX course, which is delivered both virtually and in the classroom.