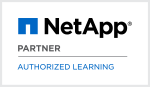 ONTAP Compliance Solution Administration (OCSA)
Аудиторія
Курс рекомендован инженерам защиты информации, партнерам производителя и системным инженерам.
Цілі курсу
1-дневный курс, направленный на получение навыков работы c инструментами обеспечения сохранности данных средствами системы ONTAP. В курсе рассматриваются архитектура решений безопасности, инструменты управления защищенной инфраструктурой и средства обеспечения безопасного хранения данных
Classroom training
Duration 1 day
Price
(excl. tax)
Ukraine:

US$ 900,- *
* Расчеты в гривнах по курсу НБУ
Клікни по назві міста, щоб зареєструватись
Дати та реєстрація
RCIS
Ukraine
Currently no local training dates available. For enquiries please write to info@flane.com.ua.
Instructor-led Online Training: This is an Instructor-Led Online course
This is a FLEX course, which is delivered both virtually and in the classroom.