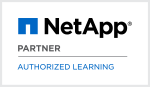 OnCommand Insight: Intelligent Operation (OCIIO)
Аудиторія
Курс рекомендован инженерам работе с инфраструктурой, партнерам производителя, системным инженерам и клиентам производителя.
Цілі курсу
2-дневный курс, направленный на получение навыков работы с ПО OnCommand Insight в рамках повседневного использования мониторинга и поиска неполадок. В курсе рассматриваются сценарии использования, варианты администрирования и обслуживания комплекса OCI 7.2.
Classroom training
Duration 2 days
Клікни по назві міста, щоб зареєструватись
Дати та реєстрація
RCIS
Ukraine
Currently no local training dates available. For enquiries please write to info@flane.com.ua.
Instructor-led Online Training: This is an Instructor-Led Online course
This is a FLEX course, which is delivered both virtually and in the classroom.