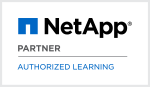 OnCommand Insight: Business Insights (OCIBI)
Аудиторія
Курс рекомендован инженерам по работе с инфраструктурой, партнерам производителя, системным инженерам и инженерам предпродажной подготовки.
Цілі курсу
2-дневный курс, направленный на получение информации о работе ПО OnCommand Insight. В курсе рассматриваются процедур мониторинга инфраструктуры и формирования отчетов OnCommand Insight и OnCommand Insight Data Warehouse. Также рассматриваются сценарии использования ПО IBM Cognos.
Classroom training
Duration 2 days
Click on town name or "Online Training" to book
Дати та реєстрація
Europe
Greece
United Kingdom
Online training
This is an English language FLEX course.


Time zone: Greenwich Mean Time (GMT)
Instructor-led Online Training: This is an Instructor-Led Online course
This is a FLEX course, which is delivered both virtually and in the classroom.