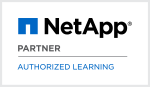 ONTAP NFS Administration (NFSAD)
Аудиторія
Курс рекомендован системным инженерам и администраторам систем хранения данных.
Попередні вимоги
ONTAP Cluster fundamentals
Знакомство с UNIX и Linux
Цілі курсу
После прослушивания курсы Вы сможете
Определить и описать версии протокола NFS
Настроить кластерный ONTAP 9 для NFSv3, NFSv4 и NFSv4.1 с параллельным NFS (pNFS)
Настроить Kerberos в среде Linux и NetApp ONTAP 9 с использованием проверки подлинности Windows Active Directory
Обсудить управление производительностью и устранение неполадок для систем хранения и клиентов Netapp
Зміст курсу
1-дневный курс, в котором рассматривается работа протокола NFS различных версий, и реализация протокола в операционной системе ONTAP 9.
Classroom training
Duration 1 day
Price
(excl. tax)
Ukraine:

US$ 900,- *
* Расчеты в гривнах по курсу НБУ
Клікни по назві міста, щоб зареєструватись
Дати та реєстрація
Instructor-led Online Training: This is an Instructor-Led Online course
This is a FLEX course, which is delivered both virtually and in the classroom.