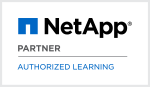 ONTAP 9.5 Data Protection Administration (DATAPROT9)
Аудиторія
Курс рекомендован пользователям сетевым инженерам, партнерам производителя, системным инженерам и клиентам производителя.
Цілі курсу
По завершении этого курса вы сможете:
Описать функции защиты данных ONTAP 9.
Понимать различные варианты зеркального отображения данных, доступные с ONTAP 9.
Настраивать и управлять репликацией данных с SnapMirror и SnapVault.
Продемонстрировать защиту данных для виртуальной машины хранения данных.
Объяснить компоненты и конфигурации, связанные с SyncMirror и MetroCluster.
Описать процедуру работы, настройки и управления NDMP протоколом.
Pre/Post Assessment.
Зміст курсу
2-дневный курс, направленный на получение навыков администрирования кластера ONTAP. В рамках курса изучаются аспекты работы с механизмами ONTAP SnapMirror, SnapVault, SVM DR, SyncMirror и NDMP. Операции изучаются как в интерфейсе командной строки, так и в графических интерфейсах.
Classroom training
Duration 2 days
Price
(excl. tax)
Ukraine:

US$ 1 800,- *

NetApp Training Units:

24 NTU
* Расчеты в гривнах по курсу НБУ
Клікни по назві міста, щоб зареєструватись
Дати та реєстрація
Instructor-led Online Training: This is an Instructor-Led Online course
This is a FLEX course, which is delivered both virtually and in the classroom.