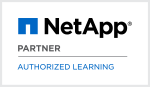 Basic NetApp Configuration and Administration (BNCA)
Аудиторія
Курс рекомендован пользователям ПО NetApp, и IT специалистам в области СХД.
Цілі курсу
2-дневный курс, проводящий технический обзор функций и преимуществ ПО управления хранением данных NetApp ONTAP 9, а также объясняющий архитектуру и устройство кластера ONTAP. Рассматриваются вопросы базового администрирования и управления кластером. В рамках лабораторных работ разбираются процедуры создания конструкций Aggregate, SVM, LIF, FlexVol и Snapshot.
Наступні курси
Classroom training
Duration 2 days
Price
(excl. tax)
* Расчеты в гривнах по курсу НБУ
Клікни по назві міста, щоб зареєструватись
Дати та реєстрація
Instructor-led Online Training: This is an Instructor-Led Online course
This is a FLEX course, which is delivered both virtually and in the classroom.