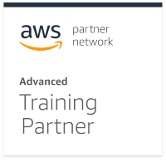 Architecting on AWS (AWSA)
Аудиторія
Этот курс предназначен для:
архитекторов решений;
проектировщиков решений.
Попередні вимоги
Рекомендуемые требования к слушателям курса:
AWS Cloud Practitioner Essentials (Основы работы специалиста-практика в сфере облачных сервисов) бесплатный онлайн курс
Практический опыт работы с распределенными системами
Знакомство с общими понятиями сетевой конфигурации
Практическое знание многоуровневых архитектур
Знание основных понятий в сфере облачных вычислений
Цілі курсу
В настоящем курсе изучаются следующие темы:
Принятие архитектурных решений на основе принципов построения архитектуры и рекомендаций AWS
Сервисы AWS для обеспечения масштабируемости, надежности и высокой доступности инфраструктуры
Управляемые сервисы AWS Managed Services для обеспечения более гибкой и отказоустойчивой инфраструктуры
Принципы, которые позволяют сделать инфраструктуру на AWS более эффективной с точки зрения повышения производительности и снижения расходов
Использование концепции Well-Architected Framework в целях оптимизации архитектур, работающих с решениями AWS
Наступні курси
Зміст курсу
В этом курсе изучаются основы создания ИТ-инфраструктуры на платформе AWS. Вы научитесь оптимизировать облако AWS, разобрав принципы работы сервисов AWS и их место в том или ином облачном решении. Кроме этого, вы изучите шаблоны и рекомендации по использованию облака AWS, чтобы научиться проектировать оптимальные ИТ-решения на AWS и создавать различные инфраструктуры во время практических занятий. Этот курс также описывает создание базовой архитектуры и превращение ее в надежное и адаптивное решение.
Classroom training
Duration 3 days
* Расчеты в гривнах по курсу НБУ
Click on town name or "Online Training" to book
Дати та реєстрація
This class will become guaranteed to run with one more student registration.
Instructor-led Online Training: This is an Instructor-Led Online course
This is a FLEX course, which is delivered both virtually and in the classroom.